Damaged Laptop Hinges and Covers
Free Diagnostics | Free Quotation | Professional Service
If you are unlucky enough to drop or damage your laptop hinges or parts of the case, it is often assumed it's going to be an expensive repair. This is almost always never the case. We are experts at fixing broken laptop hinges, case parts and screen lids.
Repairing damaged parts on a reasonably new laptop is almost always significantly cheaper than buying a new one.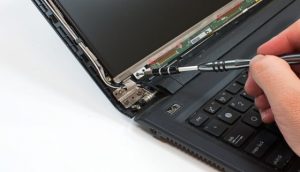 Free Assessment
At AbbeyTech IT, we offer a free initial assessment of your laptop. Simply call into our shop with your laptop and one of our skilled engineers will take a look. We will provide an initial assessment of the work involved and provide an estimate for the repair. If further in depth investigation is required, leave your laptop with us and we will conduct a more thorough assessment before providing a no obligation quotation.
We keep our prices extremely competitive as we don't have the costs of high street stores and we source our screens at the best rates from reputable suppliers whom we have built a good reputation with.
We don't compromise on quality. We only use genuine replacement parts our hinge and cover repairs include a Full 12 Month Warranty.